Vegan Raspberry Chocolate Cake Parfaits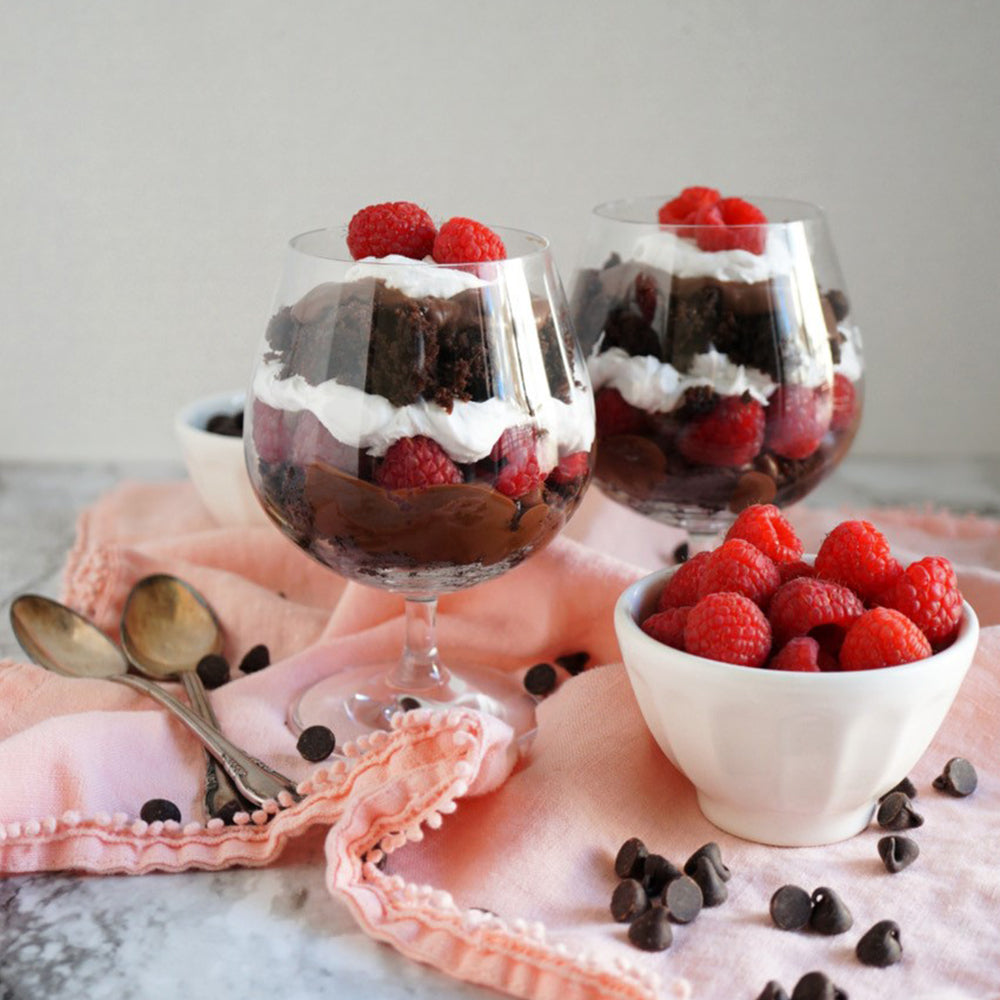 Ingredients:
FOR THE CHOCOLATE CAKE
1¼ cup flour
1 cup sugar
½ cup cocoa powder
1 tsp baking powder
½ tsp baking soda
¼ tsp salt
1 cup nondairy milk
⅓ cup vegetable oil
½ tbsp vanilla extract
2 tbsp white vinegar
FOR THE GANACHE
½ cup vegan chocolate chips
½ cup nondairy milk
TO SERVE
1 can coconut cream
1 pint fresh raspberries

Cask Brandy Glass
First, place your canned coconut cream in the fridge. Allow it to chill overnight to solidify.
Next, bake the cake. Preheat oven to 350F. Spray one 8" pan with nonstick spray or coat with vegan butter and flour.
In a large bowl, mix together the flour, sugar, cocoa powder, baking powder, baking soda, and salt. Add in the milk, oil, and vanilla extract. Finally, stir in the white vinegar.
Pour the cake batter into the pan, and bake for 30-35 minutes until a toothpick inserted in the center comes out clean. Remove cake from pan & allow to cool completely.
When ready to assemble, make the coconut whipped cream. Carefully open your chilled can of coconut cream, and scoop the coconut solids into a medium bowl. Leave any coconut water behind. Use a hand mixer to beat the coconut solids until fluffy and whipped like whipped cream. You can add some powdered sugar if desired - I didn't since the other components of the parfaits are so sweet!
Next, make the ganache. Combine the chocolate and nondairy milk in a microwave safe bowl, and heat in 30 second intervals until smooth and creamy.
Finally, it is time to assemble. Once the cake has cooled, cut it into small cubes. Place some cubes of cake in the bottom of a glass, top with some spoonfuls of ganache, fresh raspberries, and whipped coconut cream. Repeat once again to finish your parfait. Repeat up to 4 times to make four parfaits.
Serve immediately, or store in the refrigerator until ready to eat!
Recipe Created By:
@thebakingfairy
Check out her website for more: The Baking Fairy